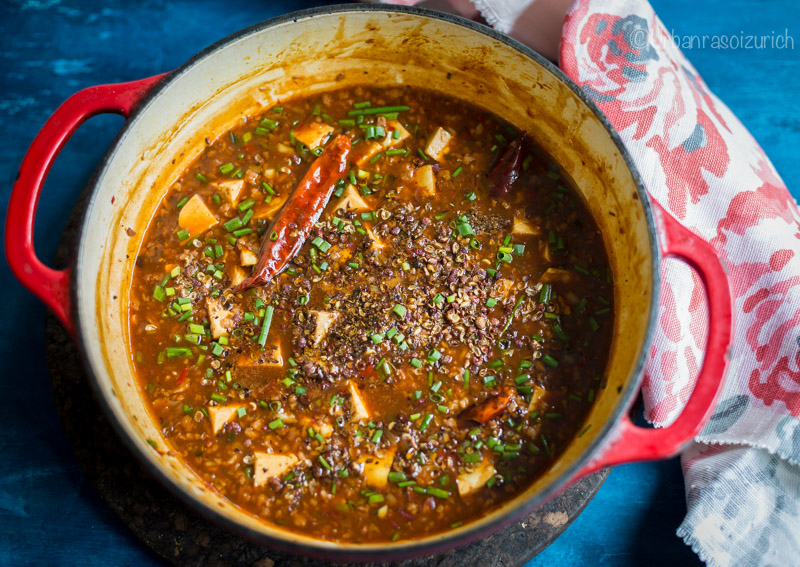 I love Sichuan food and Ma Po Tofu is one of our favourite. The first time I tried Sichuan food was ten years ago in a restaurant here in Zurich when it was recommended to my husband by a friend. The place was full, with the majority of guests being Chinese, and we knew immediately we were in for an authentic experience. This is how my love for the hot and spicy Schezuan food started. Afterwards I started reading up about it and experimenting with different recipes. I have a small collection of recipes that are my go-to when we crave some spicy deliciousness.
Vegan Mapo tofu
This recipe serves four.

Cooking time about 1 hour.

Ingredients
250g Firm tofu, drained and cut in to 1 inch cubes.  (Traditionally silken tofu is used but I much prefer firm).
1/2 cup of soy mince (soaked in warm water)
1 tbsp Sichuan pepper corns (dried roasted in a pan and crushed)
2 tsp sesame oil
1/2 tsp chiliflakes
3 to 4 whole red chilies **
1 tbsp  Ginger finely chopped
2 tbsp Garlic finely chopped
1/4 cup spring onions chopped (white parts only)
2 tbsp spicy chilli bean (Toban Djan) paste
300ml water or low salt vegetable stock *
2 tsp corn flour
Finely chopped spring onion greens or Chinese chives if you can find it.
chill oil if you like it hot **
*please note, if you use vegetable stock only use low salt one as the chili bean paste is quite salty.
** The amount of heat is a personal choice, so feel free to add more heat or decrease the heat to your preference.
Instructions
First drain the tofu and slice it into 1 inch cubes, place on paper towel to take the excess water out.
Put the soya mince in some warm water to soak.
Now heat a small frying pan on a medium heat add the Sichuan pepper corn and toast it for 5 minute. Take it off the heat and let it cool.  While the pepper corns are cooling prepare the rest of the ingredients, chop the ginger, garlic and spring onions. Once the pepper is cool, crush with pestle and mortar.  Drain the soya mince – squeeze out as much water as possible.
Heat a wok on a medium heat add 2 tbsp of oil.  Add the whole chilli pepper to it and stir fry it for a minute,  now add the chopped ginger, garlic, child flakes and chopped spring onion whites.   Stir fry it for a couple of minutes making sure it doesn't burn.  Then add the chilli bean paste and cook it for a further minute.
Increase the heat and add the soy mince and stir fry it for 2 to 3 minutes,  now add the water or vegetable stock. Let it simmer for a minute or so.   While its simmering, add some water to your corn flour and mix it well to make  sure no lumps remain.   Add this water to the wok and stir it well.   Let it cook further for 5 minutes or until the sauce starts to thicken.  At this stage add the chopped tofu and mix it gently with the sauce.   Let it cook for 3 to 5 minutes.
Add the sesame oil.  If you are using chili oil add it to the sauce now along with some of the spring onions greens and Sichuan peppers, save some greens and pepper corn for garnish.
There you are, its done!  Serve it with hot and steaming bowl of rice. Yum! I am salivating now.😋
Hope you like it.   Let me know what you think if you try it.