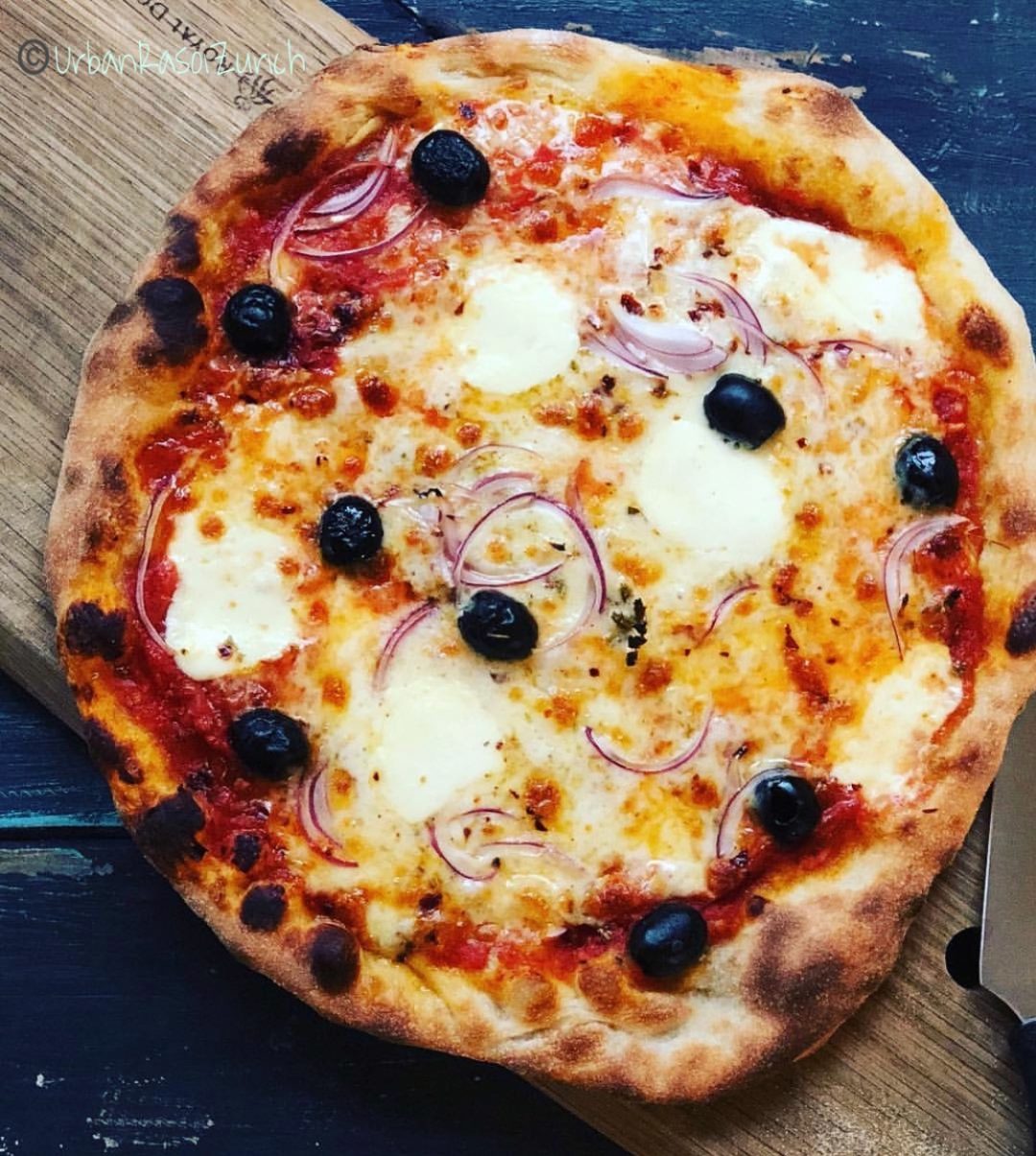 Here is my fresh pizza dough that works without fail. Enjoy delicious home made pizza's with this dough that will bake soft on the inside and crispy outside – straight out of the oven it will be your favorite pizza !
The perfect pizza dough recipe
4 Pizzas
Ingredients
500g Type OO pizza flour or a strong bread flour (with min. protein content 12g /100g)
15g fresh yeast
300ml Water – hand warm (maximum temperature no more than 40 degress celsuis  !)
2 teaspoons Salt
2 Tablespoons Olive Oil
Instructions
In a cup, add 40ml hand warm water (not too hot otherwise it will kill the yeast) and mix the yeast together until all the yeast is completely dissolved.
In a large bowl, or a stand mixer bowl, add the flour and make a well in the middle of the dry flour.
Pour the yeast water mix into the well in the flour bowl.
Mix a small amount of surrounding flour with the yeast water in the middle of the bowl to make a runny dough paste.   The consistency should be like a thick runny honey (in Italian this pre-ferment is called "Biga").
Cover bowl with a damp tea towel or cling film and leave in a warm place for 30 minutes to let the Biga ferment to develop the Yeast.
Afterwards, add the Salt and Olive Oil.
Mix 3/4 water slowly to the flour and while mixing add more water as necessary while mixing to bring together the dough.  The dough should be soft, so that it very slightly tacky to the touch,  but not enough for dough to come off easisy and stick to the hand.
Knead for 5-10 minutes.
Cover with damp tea towel and leave in warm place again for 90-120 minutes or until the dough has doubled in size.
After the dough has risen punch it back down, partition it 4-5 dough balls.
Lightly oil the dough balls with olive oil and place in a tray.  Cover the tray with a damp tea towel and leave to rest for 30 mins.
The dough balls are now ready to use.
Dust the dough ball  with flour and shape into a pizza disc (best is by hand from centre of dough outwards) or carefully by light roll of a rolling pin (take care not to roll out the air from the dough !)
Add pizza tomato sauce and toppings of your choice and bake at min. 300 degrees celsius.
Buon appetito ! 
Notes
© Urban Rasoi Zurich