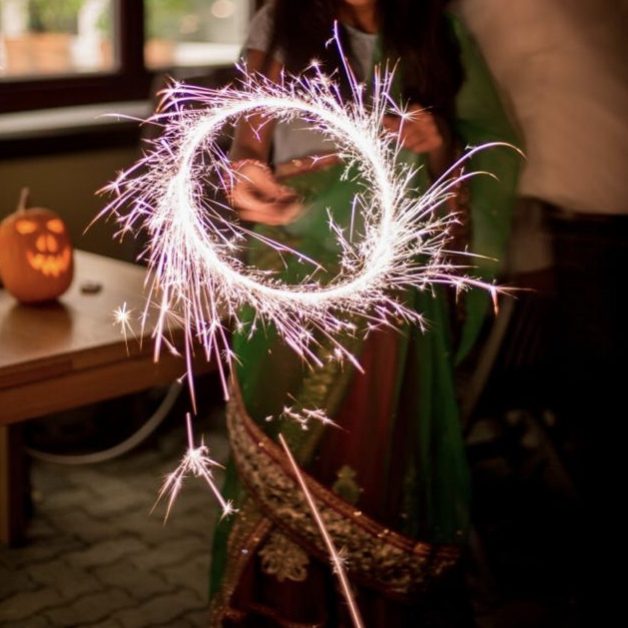 Date/Time:
09/11/2018
18:30 - 22:00
Location
Meilen, ZH
Food is a huge part of Indian festivals and the most important one for many Indians is the Festival of lights known as Diwali. It is celebrated with much fun with family and friends and a lot of feasting 🙂  Traditional sweets are also liberally enjoyed by all.
This evening enjoy the Diwali experience. We have the Diwali decorations as every year, with Diwali lights, lamps and colourful Rangoli patterns and a delicious line up of food to enjoy.
Diwali is a typical time when people dress up in their finest traditional Indian wear. If you do have some Indian clothes it will be a perfect opportunity to wear them this evening but no obligation!
The menu for the evening (fully Vegan variant menu also prepared on request)!
——————– *  *  * ——————-
– A selection of Diwali snacks [V]
– Chilli paneer [V] [Gf]
– Malai kofta with fresh home-baked Naan bread [V]
– Vegetable Kholapuri from the western region of Maharashtra with Basmati rice [Vg] [N] [Gf]
– Phirni brûlée dessert [V] [Gf]
– Non-alcoholic Drinks.
– Chai or Coffee.
[V] – Vegetarian
[Vg] Vegan
[N] – Contains Nuts
[Gf] – Gluten Free
——————– *  *  * ——————-
——————————————————————————————————————————————————————————–
All money form this Diwali event this year will be fully donated my chosen good cause this year, see details here: http://www.guriaindia.org
——————————————————————————————————————————————————————————–
The event location is in Meilen, very easily reachable by public or private transport.
Payment is  required in advance to participate –  Payment details and address will be sent after your RSVP.  Your place(s) will be fully confirmed on receipt of your payment.    Cancellations are only refunded if the place is subsequently filled by another guest.
Reservation
Bookings are closed for this event.